HR policy
Present in 35 countries around the world, Lagardère Travel Retail is the world leader in airports and stations retail. Our mission for which we work every day is to make the shopping experience of travelers unforgettable. Our team is committed to developing and implementing innovative solutions by optimizing the resources of our landlords and enhancing partner brands. In a constantly evolving market, we build a unique positioning that emphasizes our values ​​and promotes our motto, that is to say, the will to experiment new horizons, every day.
Corporate well-being, attention to health, quality of life, respect for values ​​and relationships, represent a decisive element for us to be able to collaborate with people who are always motivated and loyal.
We do not just declare the intention, but an objective to be pursued with concrete behaviour, in the awareness that organizational well-being and individual serenity are the most effective tools to allow our organization to achieve excellent performance.
We want our organizational processes to be able to welcome anyone and that every "diversity" is valued in our daily work tasks. We believe this is not only an ethical choice, but a core value in the company organization in which everyone can use their skills and abilities.
Lagardère Travel Retail has signed the "Charter for Equal Opportunities", an initiative for the dissemination of a culture free from discrimination and prejudice in the workplace. On these issues we collaborate with institutions, public institutions and non-profit organizations.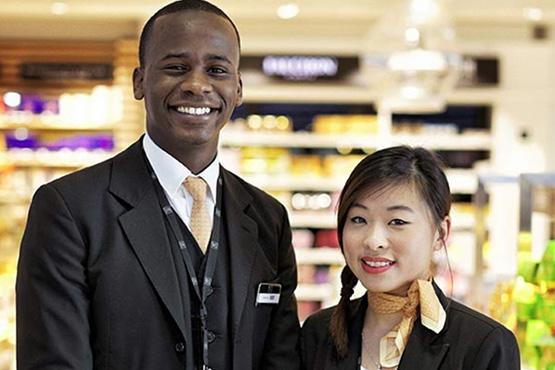 The selection of our collaborators is carried out without any prejudice of gender, age, culture and geographical origin. In our placement processes we believe that, in a differentiated way with respect to the roles covered, the acceptance and teaching of the "profession" are distinctive, motivating and essential elements.
Through a defined and structured "Induction" course, the new employee is accompanied in the gradual learning process of the profession. The specific classroom and e-learning training modules and on-the-job training optimize the learning period and develop team spirit.
Our priority objective is to offer those who enter our stores an excellent customer experience. We are committed to training and motivating our employees so that this goal is achieved on a daily basis.
In order to recognize the commitment and the results achieved, we develop specific career plans, enriched by the personalized trainings, in a continuous and stimulating comparison with the international reality of our Group.
"Lagardère Travel Retail Academy" strengthens the skills of our employees through personalized training courses, ranging from management techniques, language training, technical-professional training and product training in close collaboration with our partners.
Our training approach is adapted to the different cultural needs of our collaborators, of different ages and experiences. We constantly use and develop new and advanced digital technologies, together with pedagogical methodologies adapted to our reality, to guarantee speed and effectiveness in achieving results and managing change.